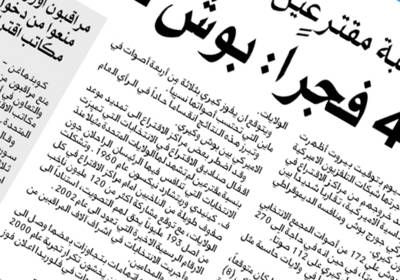 An
Australian newspaper
comments on the reaction to Bush's victory in the Middle East:
"
Israel, the Iraqi interim Government and the Arab states aligned with American interests are rejoicing, while nations in the US's crosshairs, such as Iran and Syria, now realise their hopes for a more tractable White House have been dashed. The sharply ideological US view of the region, shaped by the war on terror, will continue for four more years with Mr Bush at the helm
."
Reuters
quotes a Syrian political analyst, Imad Shueibi, as predicting "
four years of nightmare again
".
But let's look at the bright side:
SANA
proudly breaks to us news about electing a Homsi as a governor of a US state!
Mitch Daniels
, a Republican (i.e Bush guy) of Syrian origin, was nominated as the Governor of Indiana after defeating his democratic competitor by 54% compared to 44% for ex-Governor Joe Kernan. Homsis must be rejoicing too!